Eating Well – Clean, Delicious, Balanced Meals
Turkey And Spinach Roll Up Recipe – Engine Co. No. 29

A Healthy Yummy Recipe
(Who's Stopping By For Dinner? ;-))

Recently, a friend shared with me a meal that she made for her co-workers at her fire station. Because she is one of the few women there, and having cooked for her family for years, the other firefighters were thrilled with the special treatment of a delicious meal during work.

When looking at meals to make for myself and my family, I always look for clean meals. Clean in my book means healthy, quality meat, preferably grass fed, free-range animal sources and fresh food with very few if any processed foods. Another important focus is on foods that fill the stomach, satisfy the palette and keep the blood sugar in balance by limiting processed carbs (pasta, rice, bread, flour etc.)
This turkey and spinach rollup recipe completely fits the bill. It really is almost Paleo by design.
Another factor in cooking for me personally is making enough for multiple meals.
Cook once, eat 2-3 times. It sure makes eating well a ton easier!
So … here is my friend's recipe … try it out and tell me what you think !!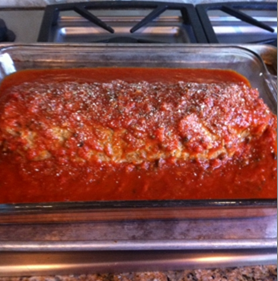 Turkey and Spinach Roll Up

1 package Ground Turkey (around 1lb)
1 Package Turkey Sausages Hot or Sweet (removed from casings)
2-3 eggs
Coconut or Almond flour, sprinkled and used as a binder
Italian Seasonings (Basil, Oregano)
Fresh Spinach, steamed and drained of liquid (4 cups+ before steaming) (sub frozen chopped spinach if necessary)
Shredded, low-fat Mozzarella cheese (optional depending on if you eat cheese)
1 large Chopped onion, sautéed in coconut oil
Salt and Pepper
1 jar of Trader Joe's Puttenesca Sauce Fresh or canned chopped tomatoes
Coconut Oil Spray
Large cookie sheet with edges
9"x13" casserole dish
Spaghetti Squash, cooked and removed from skin/rind
Grilled or sautéed red, green and yellow bell peppers
Fresh Green Salad
How To Prepare The Rollup:

1. Preheat Oven to 350 degrees.
2. Mix first 4 ingredients in a bowl with hands.
3. Once combined, sprinkle with flour until the mixture has good stick and is not super wet, but not super dry either.
4. Line the cookie sheet with foil and spray the foil with coconut oil spray Place the meat mixture in the center of the foil, then use a rolling device or your hands, spread the meat out evenly to all edges of the pan.
5. Spread a layer of steamed and drained spinach, sautéed and drained onions over the meat mixture leaving about 2 inches to the pan edge free of spinach and onion mixture.
6. Sprinkle cheese over the top if you are using cheese.
7. Starting from one narrow end, carefully start rolling the meat up, using the foil to roll it from one end to the other. Seal the ends by pinching together. Using the same piece of foil, wrap the roll up, and place in the 9×13 casserole dish. Additional foil may be necessary to seal the ends.
8. Place in preheated oven and bake for 1 hour.
9. After 1 hour, remove meat from the oven and once cooled enough to touch, remove from foil by unrolling into casserole dish. There will be juice which should be discarded.
10. Open the sauce, and put into a blender and add the tomatoes until blended.
11. Cover the meat with the sauce. Top with additional sprinkle of cheese and seasoning.
12. Cover and Bake for 30 additional 30 minutes.
13. Remove from the oven. Let sit for 10-15 minutes then slice into 1 ½-2" slices.
14. Serve with spaghetti squash/pepper mixture and salad.
A solid balanced meal for an average woman would be 2 slices of meat, 1-2 cups of squash and a healthy portion of salad.

Men can have 3-4 slices and a similar amount of squash and salad according to your size and need.
P.S. I have a ton of clean, delicious, balanced recipes that I prepare for my family all the time. If you would like me to share them with you, let me know in the comment section below. Tell me what your favorite foods are and I will be sure to get a recipe for that out on the site. And don't forget … tell me what you think about this one.
P.P.S. If you need some help learning how to "Make Friends With Food", I have room for a few more people in my nutrition coaching program. So, if you think in person nutrition coaching and supplements (plus some of the best recipes in the world :-)) could finally help you put it all together. Contact me here and let's get started today!
Anne (Annie) Berryhill is a Crossfit Level 1 Trainer, athlete and competitor who owns and operates OC Fitness Revival in Orange County, CA.

Services include personal and group training, nutrition classes and counseling and she teaches people how to get the most out of what they've got.
Contact her today for a class visit or nutrition consultation
(949) 280-3407 Anne@anneberryhill.com